Zmicier Surski - We should pay tribute to the Belarusan poster
04.07.2017
|
Society
|
Aliaksey Chubat,
In 1991, poster artists from the Soviet Union sent 120 posters to the triennale in Japanese Tayama.
The international jury selected for the exposition only sixteen out of them, and - attention - nine (!) of the selected ones were by Belarusan authors. And today - where is Belarusan poster art moving to? Are all posters of the previous times worth our attention? We talk to the chairperson of the Belarusan Union of Designers Zmicier Surski.
- Zmicier, the poster, perhaps, is the most ideologized art form. This is a means of propaganda; it cannot be put on a shelf - the poster requires an instant contact with the audience. Even your well-known works "Bread is the staff of life" and "Cadres are all-important" belong to the Soviet period. Didn't Leniniana posters put off your desire to preserve this art?
- The picture you have depicted is right, but it is only one side of the medal. It is necessary to add that out of all kinds of our art it was Belarusan poster art that was the most famous in the world! Therefore, the Union of Designers and I have a natural desire to reverence the Belarusan poster so that everybody would understand what actually creates the image of Belarus in the cultural world abroad. Besides, the poster is not only an ideological product. It is a witness of time, social changes, and a source of visual codes of that time.
During the years of my work aimed at gathering a collection of the Belarusan poster, I have understood the importance of this phenomenon. This understanding was also reached thanks to my personal achievements in this sphere. The posters you have mentioned had million circulations and are well-known in the world. Still, my eminent colleagues have made considerably bigger contributions to Belarusan poster art. Therefore, I consider it necessary to pay tribute to this art form - the historical evaluation it deserves, despite Leniniana.
- When was the Belarusan poster born?
- FerdynandRuscyc is considered the founder of this art - he made the first poster to a regional ethnographic exhibition in Vilnia [Vilnius] in the Belarusan language. However, in our collection, there is a poster created much earlier - in 1883 – it urges to visit the opera "Jew" at the Minsk Theater.
- And how was the poster artist Surski born?
- My friend Vladimir Tsesler offered me and TaccianaHardasnikava a side job - to create a series of posters on economy. And suddenly our work received the first award at the All-Union Contest of Advertising Posters in Tallinn. Then, it was reprinted several times by other publishing houses and even participated in the biennale in Brno. Then, there was cooperation with the publishing house "Belarus", participation in exhibitions and numerous international competitions. I say sincerely - for me, an industrial designer, the creation of posters and participation in exhibitions was the only way to make an art career and to become a member of the Union of Artists. In general, all designers dreamed of becoming members of this Union as our professional organization did not exist yet. This membership allowed us to have conditions for our free work, to receive a studio, and to create works on a by-order basis. Posters were ordered by publishing houses and bought by museums.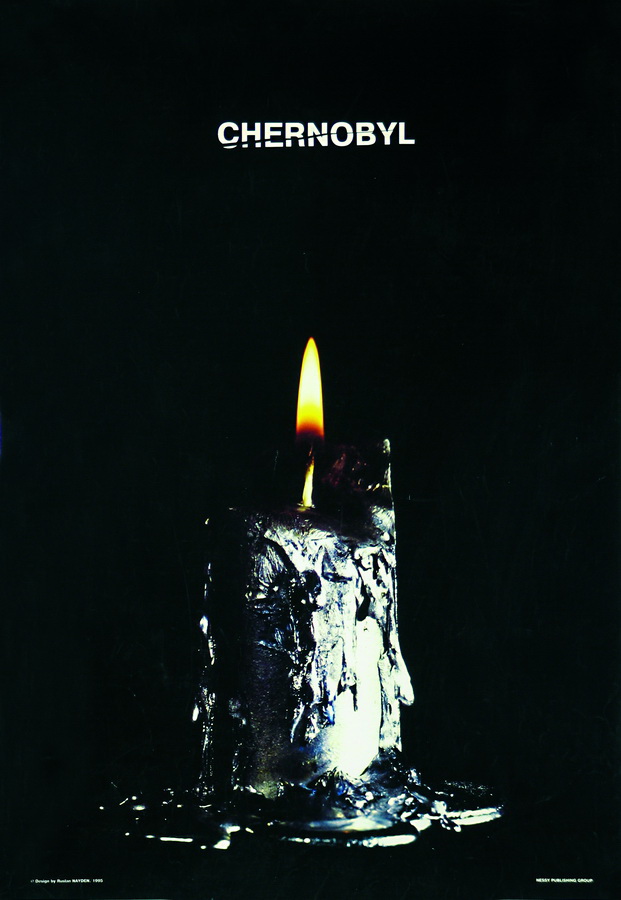 - What is the activity you carry out within the pale of the project "CHOICE-Belarus: heritage and the present day"?
- We want the Belarusans to see and know what is seen by visitors of world famous museums that have more than 200 posters of our creators - the Poster Museum in Wilanow (Poland), the Moravian Gallery in Brno (Czech Republic), the Poster Museum in Lahti (Finland), the Design Center in Tayama (Japan), the State Museum of Russia's Political History (St. Petersburg), and even the Louvre. For many decades, Belarusan posters have been participating in different contests and biennales with their cruel selections, becoming a part of expositions, and receiving the first places. Vladimir Tsesler, Sergei Voichenko, Kanstancin Chacianouski, JuryjTarejeu, Alaksandr Navazylau, Ruslan Naidzien, Alena Kitajeva, Andrei Saluta are those who made our poster well-known in the world. Still, there is not a word about them in the last edition of the History of Belarusan Art. In general, the poster is not mentioned there at all, and we have to rectify this error.
There are three ways of doing it. The first one is the web-site plakat.unid.by that we have made and are now working on it – it systematizes works of poster artists. The second one is the book we are preparing now - it will help to preserve posters in print. And the third one is the exhibitions we carry out in each regional city and in the capital. Exhibitions help to popularize the poster business; it is a place of dialogue with citizens.
- Tell us more about your activity aimed at preserving and popularizing the poster.
- Despite the impressive archive of the Union of Designers, during the project, we continued our searches. E.g. in the Russian State Library we found the wonderful poster "All – to elections!" by Hienadz Zmudzinski (the author of one of variants of the BSSR coat of arms and the Red Banner military medal). A private collector had his own wonderfully made poster for a circus troupe of the 1920s. It is offered to us to buy it for $1,000 and I think we shall agree. There are situations when we rescue posters when they are figuratively and literally near an oven!
Interesting artist Alaksandr Bychouski worked in the Homiel branch of ROSTA Windows. All his posters are in Russian libraries. We have purchased about 10 copies, the price of one is $20, no need to buy the originals - the technology allows us to make high quality copies.
During our work in archives, museums, and libraries, more than 3,000 digital copies have been filmed and processed (by the way, in our Book Chamber, now there is the biggest collection in Belarus - about 5,000 copies).
We have systematized our acquisitions, put them in punched pockets, each has its own number now, we put all of them on Google clouds. The most interesting thing is that we put them on our updated web-site and now a poster can be found not only thanks to its name and author, but also its subject, art technique, method of execution, and stylistics.
We have decided not to make the book on posters a printed copy of the electronic resource - we consider it a big business card of our network project. Therefore, the book contains the most interesting and brightest materials. With the help of QR codes, it is possible to see more detailed information on the web-site. The book tells the story of how this genre appeared, how it formed and turned into an independent art form. Separately, we describe distinctive features of the Belarusan poster.
For example, in the 1980s-90s, in Belarus, a lot of wonderful photo-posed works were created. It happened so that the Minsk factory of color printing had the most advanced foreign large-format photo equipment in the whole USSR and very talented photo masters worked there; posters were created by designers who had good preparation in photography and experience in the creation of illusory models. During those times, Photoshop did not exist yet, let alone 3D! For the sake of posters, special models were created. There was no right to make mistakes because the tape "Kodak" 12х18 was very expensive and it was a deficit. A masterpiece was created during the first and only click of the photoshutter.
In the book, authors of posters will speak of what inspires them and how their ideas turn into works. I believe it will be the most qualitative book we have ever published - both as for its concept and execution.
- It is a good idea - to describe posters as a phenomenon with the help of those who create them.
- Yes! What triggered the poster art of Belarus? I have the answer to this question - in the 1980s a new generation of authors appeared. The first graduates of the Graphic Design Department, with their visions and tools, became poster artists. The traditional school – Uladzimir Krukouski, Uladzimir Zuk, Mikalai Stoma, Uladzimir Vasiuk – was changed by cosmopolites. The young people were interested in modern ideas, not only the fight for peace, but also alternatives that appeared during the Perestroika times. They used the art language understood by everybody. And when the army of young radical artists – Siarhiei Jeulampijeu, Siarhiei Plotnikau, Alaksandr and Volha Damanaus, Leanid Hor, Michal Aniempadystau, and others – started making posters - there was an art explosion.
- Still, the poster, as an art form, should display the national essence because it is the only way to be of interest to other cultures?
- And who made these posters? Belarusans. This is the Belarusan vision of world shifts. It is not necessary to constantly speak about the Belarusans with the help of our national ornament. Our vision is also unique - in it there is also our national distinctiveness, our cultural identity.
- What changes in the attitudes towards the Belarusan poster do you expect after the presentation of the web-site and the book?
- We would like artists and customers to pay attention to this kind of art. All theaters, for example, could have their qualitative poster history and, I am sure, authors would do this work free of charge, because to make a playbill is the best way of strengthening one's resume. Anniversaries of Belarusan cities are a topic that can also be developed. In general, to advertise the state with the help of posters is a challenge for us, particularly now - when foreigners need no visas to visit Belarus. Each embassy could have an album of qualitatively made posters that present our state.
- Do we have to preserve all posters?
- When I studied this sphere and saw the innumerable number of clones of happy builders of socialism, I got tired. I thought that it was just rubbish. Now, I have come to a conclusion that not we, but the following generations should evaluate the products of that time. After all, what seemed trite, ugly, and midcult - now looks rather qualitative products of their time. The historical value and axiologicalness of things is only understood after a certain period of time.
- Where is the end of your private responsibility for poster popularization – is it enough to make an exhibition and to publish a book?
- Well, my overall objective is to create a museum so that our collection would not turn into an antique shop in the future. The National Historical Museum asked us about posters, but we have our conditions – to keep them properly, to have a constant exposition. Therefore, we dream of a separate Museum of Belarusan posters, which are indisputably national heritage.
- Isn't it early to add posters to the category of museum objects? The nation's potential is not revealed yet.
- Here, it is as luck would have it – if there appears talent and it has possibilities to realize itself, if it is supported by the teacher... Here, Ruslan Naidzien says that 50 posters of his pupils became participants of international exhibitions and biennales. This is an indicative figure, and it is only one master. And we have lots of masters – so, it is quite possible that someone's pupil will surpass all of us combined.
The International Project "CHOICE - Cultural Heritage: Opportunity for Improving Civic Engagement" is implemented by the Association of Local Democracy Agencies ALDA (France) in conjunction with the International Consortium EuroBelarus (Lithuania).

Other news section «Society»
For the last five years, the Children's Creative Workshops (CCW) acquaints children with fine arts in a game form.

Many people came to the premiere of the play "Memory Shelter" to the village of Stuly in the Pruzany Rajon [District].
08:48

10:42

09:02

08:03

07:02

13:50
In his report, philosopher Gintautas Mažeikis discusses several concepts that have been a part of the European social and philosophical thought for quite a time.
We present a research results report of Belarusan human rights organizations sector.
Belarusan President Lukashenko said on Tuesday a "fifth column" was plotting to overthrow him with the help of foreign-backed fighters, days before a planned street protest in Minsk against a new tax.
Our expert in issues of forming identity on local visual codes, professional designer Michal Aniempadystau prepared a special report for our meeting in Brussels and further at a Belarusian discussion.